The #Blacklivesmatter movement has seen outrage from all across the world. While a lot of Indians supported the movement and opposed 'racism', are we really eligible to speak against color differences, when 60% Indian women use fairness creams?
Racism is a global issue, but India is among the top countries where people (especially women) feel insecure, humiliated and discriminated for being dark. Unfortunately, here beauty equates fairness. Such are the standards created by the society, which automatically makes a fair-skinned person beautiful.
What's wrong with beauty standards?
A lot of beauty stereotypes exist in our society that promotes the idea of being fair, tall, slim and what not.
These standards set by us makes a lot of youngsters as well as adults feel uncomfortable about their bodies.
It makes it hard for people to accept their body and may lead to low-self -esteem.
It can also cause mental health issues and depression.
Is this discrimination still prevalent in our society?
Unfortunately, YES! We may not witness it on hard-core basis as in US. But we cannot deny how deeply enrooted this racial system is, into our culture. Don't agree with me? Read further and you will have to!
Have you ever heard relatives talking about new born's complexion?
Have you seen anyone comparing two sisters, calling one as 'Savli' (Dusky)?
Or Heard saying:
'Dhup me mat ja warna Kaali hojaegi'? (Don't go out in scorching heat or else your skin will become dark-skinned).
'Dhang se nahati nahi hogi islie kaali hogyi'. (You must not have been taking bath properly, this is why you turned dark).
'Koi shadi nahi karega tujhse' (No one will marry you!)
White mat pehan or 'Kaali' lagegi. (Don't wear white, you will look darker)
Whether or not you've been through it, being an Indian, you can't deny of its existence.
So, are these any less than racist statements?
Now that you have accepted the presence of such standards, let us talk about how are these enrooted in our system.
RECENT POST: LESSONS COVID-19 HAS TAUGHT US!
How does fairness equate beauty?
A lot of things that are in the public domain make us feel uncomfortable about ourselves, our body and skin. These are mostly Brand Advertisements, Celebrity culture, Matrimonials, Social media and own people that make us believe fair skin is beautiful.
Ads and Celebrity endorsements
Advertisements play a huge role in shaping our perspectives. We may not realize but we sub-consciously consume a lot of things and that is what shape our beliefs. You must already know about HUL's brand 'Fair and lovely' which is the oldest fairness cream brand of India. The kind of advertisements this brand has given since its start until today, are ridiculous.
From making people believe that if they have dark skin, they will remain on backstage to telling them that dark-skinned people don't get accepted in the corporate world, the brand has made up the mind of commoners that fair is beautiful.
And, have a look at this Ad:
Did you notice the smile of Yami Gautam (in ad) has started to brighten along with her color. All I can understand from this is that we need to be fair to be happy. This is how the brands sell their products, by telling us that we need it in order to be acceptable in the society.
Another bigger thing that upset us is the involvement of celebrities in promoting the idea of fairness = beauty. A lot of Actors including Priyanka Chopra, Deepika Padukone, Shah Rukh Khan, Sonam Kapoor, Shahid Kapoor and John Abraham.
In 2017, Abhay Deol slammed Bollywood celebs for endorsing fairness creams.
Actor Yami Gautam broke her silence and said that there's no bad in doing ads of fairness creams until and unless it hurts the sentiments of people, and that she will not live as per others' ideologies.
There have been many campaigns and movements against racial practices in the recent years due to which brands even changed the tags from 'fairness creams' to 'lightening and brightening creams', but the idea remained the same.
And it is only recently when Chandana Hiran, a change maker filed a petition against the existing products of Fair and Lovely, and the brand decided to drop 'Fair' from the name.
Similarly, 'Johnson and Johnson' has decided stop selling fairness creams.
Although these steps are in the right direction, these brands have already left scars in the minds and hearts of people by promoting the idea of 'fair is beautiful.'
On one hand, there are celebrities endorsing brands, on the other, some have been fighting against it. Abhay Deol is one such actor who has always been against the idea and shared his reaction to the recent decision of HUL on Fair and Lovely.
Bipasha Basu shared her experience with the idea of fairness and how she was treated or made feel. You must check out her post here:
Both of them got appreciation and applauds from fans for their anti-racism stand.
ALSO READ: SUSHANT SINGH RAJPUT : SUICIDE OR MURDER?
Matrimonials: The desire for fair bride
The Matrimonial ads in newspapers are even more pathetic. The ads demand brides to be FAIR AND BEAUTIFUL among its ridiculous requirements. And these ads are written by we people only, the people living around us.
Recently, a woman named Hetal Lakhani filed a petition against 'complexion' filter on Shaadi.com, which is the most popular matrimonial site. It is only after this, the company deleted this feature of filtering and finding people based on their complexion choices such as wheatish, dark and fair.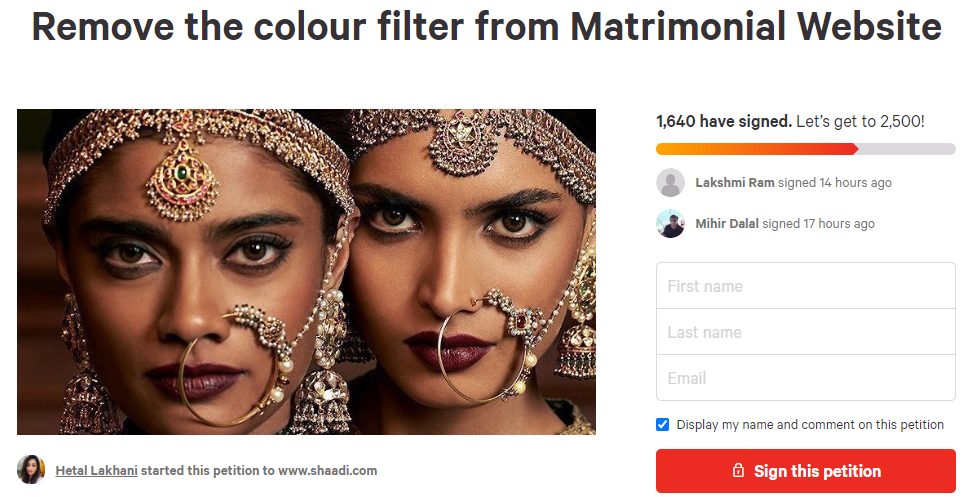 Social Media and Applications:
We don't even realize what we see on social media is way different from reality. Social media promotes such stereotypical standards of beauty that makes it hard for us to remain natural. When was the last time you used normal phone camera and posted picture without editing? Perhaps you don't remember.
Applications like Beauty plus, B612, Candy cam, Instagram and Snapchat among others have hundreds of filters that make us look more beautiful. When you simply choose 'beautify', you get a fairer skin, bigger eyes, slim face, shaped lips and everything that we consider in our "beauty standards."
Isn't it a matter of shame that we do not accept ourselves and always try to look better and get approved for our bodies? We always choose that one picture which will give us the maximum number of likes and comments like 'pretty', 'beautiful', 'incredible', 'hot' etc. for look that isn't even real. Aren't we beautiful the way we are?
ENDNOTE:
Although brands have started taking small steps in the right direction, it is impractical to eliminate it from the ground. Since, racism is embedded into our cultures, we must be ready to fight it together. It will take a lot to achieve a society with zero discussion about skin color.
For this, we must understand that every living creature is beautiful. We must look beyond the external features of humans and instead appreciate their inner beauty, personality and character. And lastly, teach your kids and students that every skin is beautiful.