Whether you are a morning person or a night owl, there might obviously be something with which you start your day.
You might be someone who jumps onto social media notifications, or maybe someone who begins his/her day with Yoga or Meditation.
No matter how you start your day, what you eat or drink in the morning largely affects how you are going to spend your entire day. If you are genuinely concerned about your well-being, you should definitely give a boost to your morning by starting it with a healthy beverage.
Below are 12 beverages that will give a kick start to your morning:
Aloe Vera and Amla Juice
Amla is a powerhouse of nutrients. Being an excellent source of vitamin C, it helps boost your immunity and metabolism. It is a natural antioxidant that helps prevent viral, cough and cold. Aloe vera on the other hand , is rich in vitamin E – again a powerful antioxidant. It has an amazing anti-aging effect. It is also known for its medical properties for curing constipation and reducing blood sugar levels.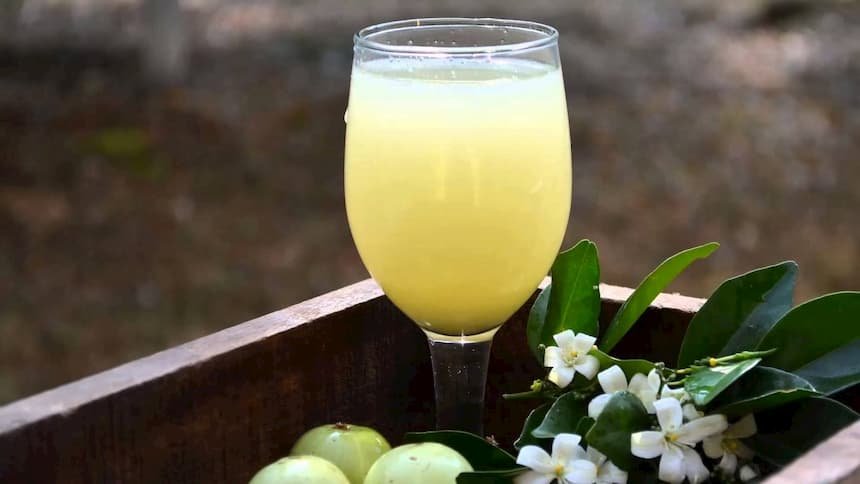 BENEFITS: Reduces cholesterol, better functioning of heart, manages diabetes, respiratory ailments, tackles hair fall, keeps skin young.
HOW TO DRINK: Get Aloe vera amla juice of any reputed brand. Take 20ml juice in half glass of warm water and drink it every morning on empty stomach.
Green Tea
Green tea is one of the healthiest beverage. Loaded with anti-oxidants and nutrients, it works amazing for both body and mind. It increases the metabolism and improves the process of digestion. By regulating the glucose level, it also helps manage blood sugar. It is also found that green tea has anti-bacterial and anti-inflammatory properties that prevents developing of a number of diseases.
BENEFITS: Weight loss, prevents heart attack, manages blood sugar levels, improves cholesterol, blood pressure, depression, anti-aging.
HOW TO DRINK: DO NOT DRINK IT EMPTY STOMACH! Drinking it empty stomach may cause damage to your liver.
Take a green tea bag and dip it into a cup of hot water until its color changes. Drink it either 1 hour before having breakfast or post 1 hour.
Apple Beetroot Carrot (ABC) Juice
Apple beet carrot juice makes a wonderful energetic morning drink. Its nutrient rich properties protect our body from various diseases. Beetroot and carrot contain lutein, beta-carotene and alpha which are nutrients that are excellent for the heart. The magical properties of apple are well known. The beta-carotene in the carrot acts as an antioxidant. By stimulating metabolism, it helps relieve constipation. The drink is low in calories, and the combination makes it ideal for weight loss.
BENEFITS: Boosts digestion, healthy liver functioning, helps with menstrual disorders, fights constipation, manages blood sugar level, cures inflammation, improves vision and skin and boosts immunity.
HOW TO DRINK: To Make: Take 2 carrots, 1 apple and one beetroot. Cut them into large pieces and put them into a blending jar. Add little bit of water and blend it all together. You are done!! You can also add a dew drops of lemon. Drink it empty stomach.
Wheat Grass Juice
The extensive combination of vitamins and nutrients makes wheatgrass an effective drink to keep the body fresh and energetic through the entire day. It has antioxidant, antibacterial, and anti-inflammatory properties making it an exceptional choice.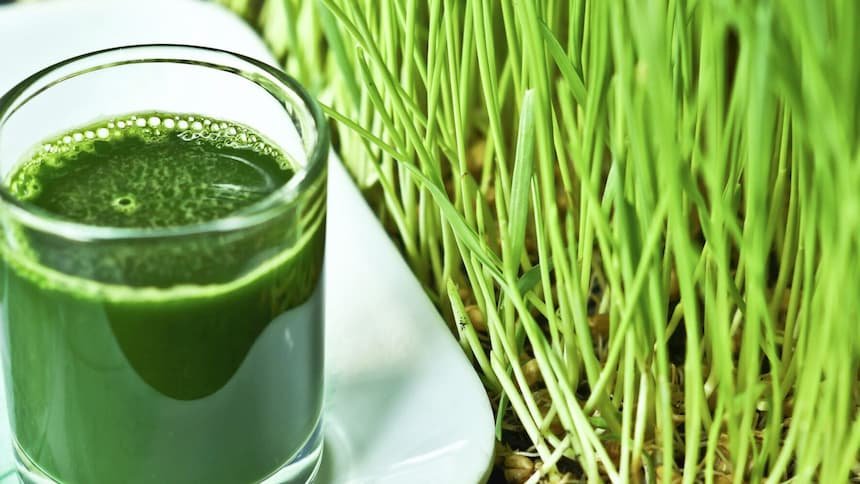 BENEFITS: eliminates toxins, improves digestion, boosts metabolism aiding weight-loss, lowers cholesterol, boosts immune system, lowers blood pressure, relieves anxiety, manages diabetes.
HOW TO DRINK: To make: Take fresh wheat grass or powder if fresh isn't available. Put it in a blender and add some water to it. Blend it and stain it. Drink only on empty stomach and don't consume anything for an hour.
Ginger Tea
Ginger is known for its medicinal properties. Ginger tea is a common beverage specially in winters. Apart from keeping the body warm, it helps with stomach-upset and motion sickness, preventing vomiting and dizziness. It also improves blood circulation, lowers blood pressure and cholesterol, preventing heart attacks. Ginger tea also helps alleviate pain such as headaches, sore muscles or menstrual cramps.
BENEFITS: Treats migraine, vomiting, sore throat and cough, stimulates digestive system, prevents cancer, improves blood circulation and moisturizes skin.
HOW TO DRINK: Take a medium piece of ginger and chop it finely. Boil 1 cup water and add ginger. Let it boil for 10 minutes. You can also add lemon, honey or tulsi leaves. You can take it as the first thing in the morning.
Coconut Water
Coconut water is a delicious as well as nutritious super-hydrating drink that can surely keep you energetic after workout. It is loaded with pro active compounds including vitamin C, magnesium and potassium.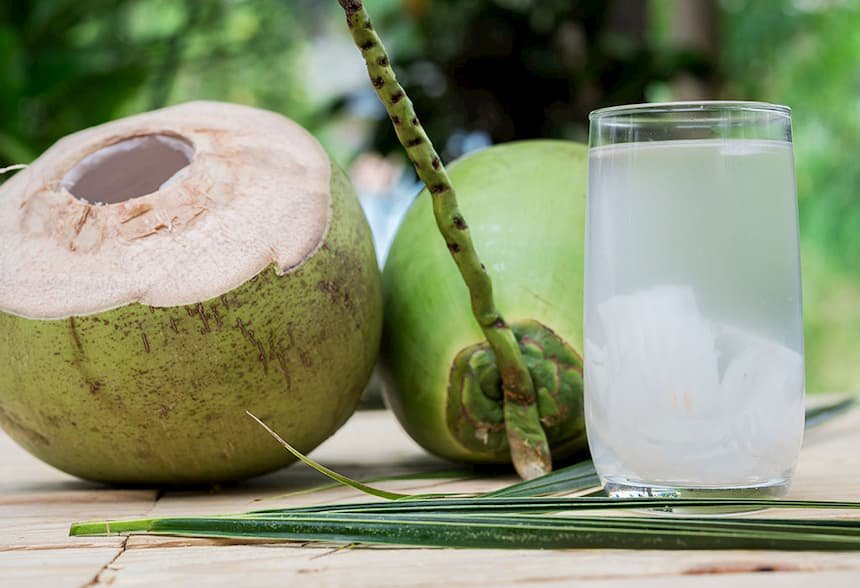 BENEFITS: Prevents heart diseases, controls blood sugar, boosts metabolism, prevents stones in kidney, lowers blood pressure, keeps body hydrated.
HOW TO DRINK: Buy fresh coconut and make a hole in the soft part. Drink its water using a pipe. You can store it up to 2-3 weeks. Alternatively, you can get bottled water at general stores. Ensure that it is 100% natural and doesn't contain any added flavour or sugar. You can drink it anytime. Best to drink in the morning after exercise.
Green Juice
Green juices are incredibly rich in nutrients and offer impressive health benefits. It is so because it is made using veggies which are all packed with key vitamins and minerals. These include antioxidants, vitamins A, C and E, amino acids that are building blocks of protein.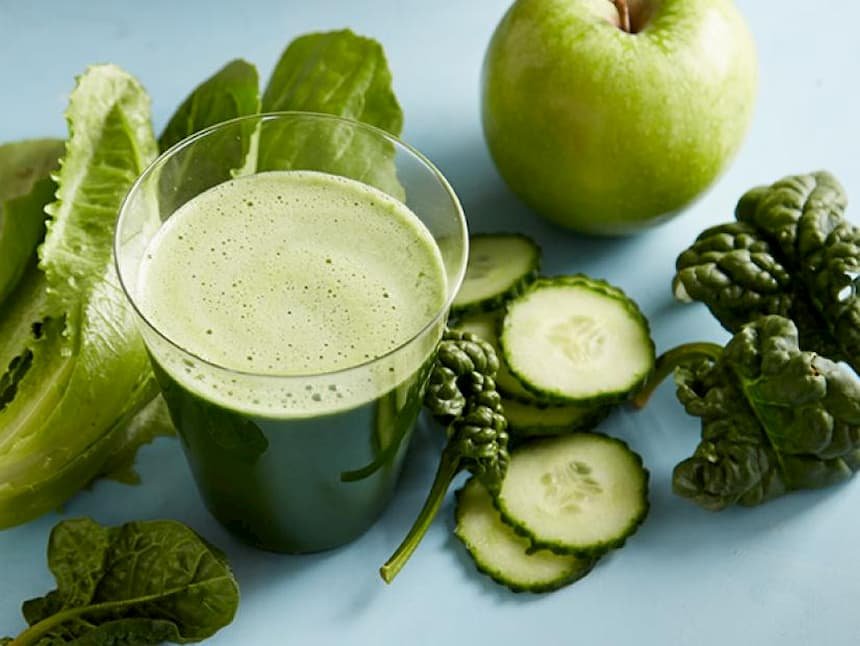 BENEFITS: delays aging, improves gut health, detoxifies body, boosts immune system, energizes body, cleanses skin.
HOW TO DRINK: To make: take your favourite green veggies including kale, spinach, cucumber. You can also add apple or lemon juice to it as per your taste. Drink it on empty stomach for highest effectiveness.
Apple Cider Vinegar
Apple cider vinegar is among the most popular beverages today. It is largely known for its weight-losing benefits , while also contributing positively for the skin, heart and sugar levels. Many YouTubers have claimed to have lost Kgs with the drink.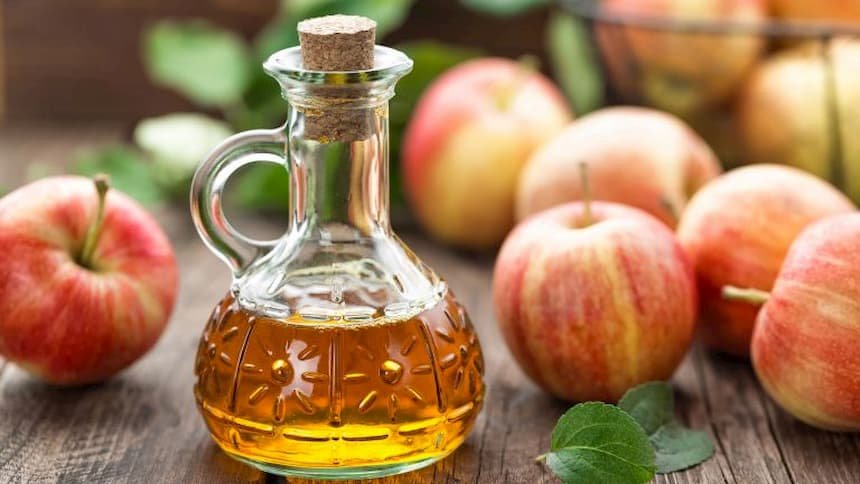 BENEFITS: Reduces bad cholesterol, lowers blood sugar levels, improves the symptoms of diabetes, boosts skin health and aids weight loss.
HOW TO MAKE: Take 1-2 tsp or 5-10ml or apple cider vinegar in one full glass of water and drink it in the morning. Do not take it without water, it may lead it tooth decay and burning of mouth. You can also add it in your salad or in cooking.
Lemon Water
Realising the benefits of lemon water, people have ditched their bed tea and coffees. It is an excellent source of vitamin C, which helps boost the immune system and fights off viruses and bacteria. Lemon juice is even served in restaurants and cafes.
BENEFITS: Hydrates body, boosts immunity, weight loss, aids digestion, improves skin quality, freshens breathe and prevents kidney stones.
HOW TO DRINK: Take one glass of warm water and add lemon juice by squeezing half lemon. Drink it on empty stomach. You can also add honey if you desire to.
Pineapple Juice
Enriched with vitamin B, C, manganese , calcium and phosphorus, pineapple juice helps in the energy production of our body. It is also rich in fiber and low in calories, because of which you will feel full with a glass of juice and thus eat less.
Its sweet and tangy taste makes it one of the most-loved healthy beverages.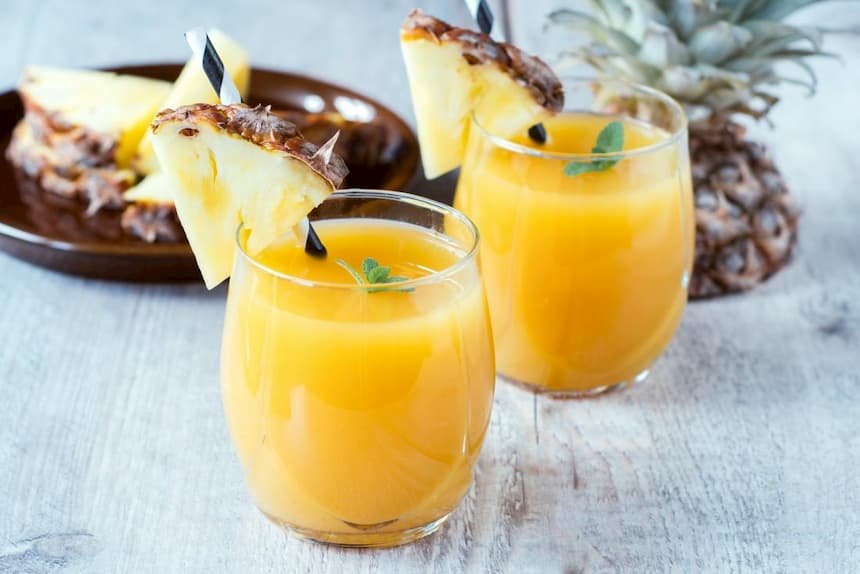 BENEFITS: Boosts immune system, rich in antioxidants, fights free radicals and cancerous cells, normalizes blood circulation, lowers blood pressure, reduces the risk of a heart attack, improves digestion and gut health.
HOW TO DRINK: Take some slices of pineapple and pour some water into a blending jar. Blend the two together and you are done in a minute. Enjoy the taste along with nutritional benefits early in the morning. Not staining it will provide the most benefits.
Black Coffee
Black coffee is a trending beverage, especially popular among the gym-goers and workout lovers, due to its amazing properties that contribute to weight-lose and energy production. Starting your day with black coffee can keep you active throughout the day.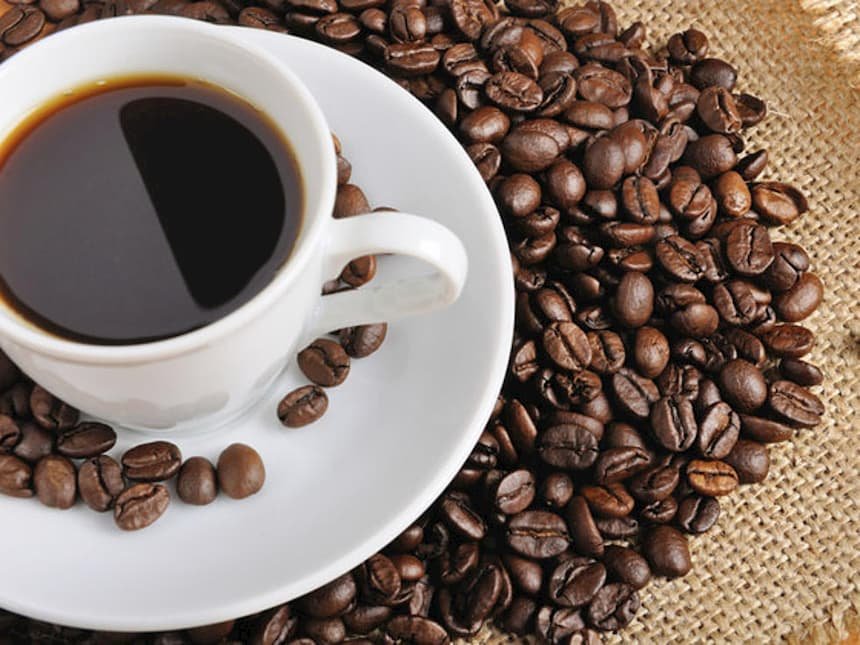 BENEFITS: improves heart, weight-loss, improves memory, functioning of liver, prevents cancer, cleanse stomach.
HOW TO DRINK: To make black coffee, boil a cup of water and add 2 tsp coffee powder. Let it come to a boil. Stain it and it's done! A black coffee is simply a coffee without milk, sugar and any other flavour. Try to drink it before workout, you'll feel energetic.
Giloy Juice
Giloy is an Ayurdevic herb which has been in use since ages. It has gained popularity in the recent years and it is genuinely worth the popularity. Giloy juice is known for its anti-bacterial properties that helps cure fever of all kids. It is also an excellent source to boost immunity.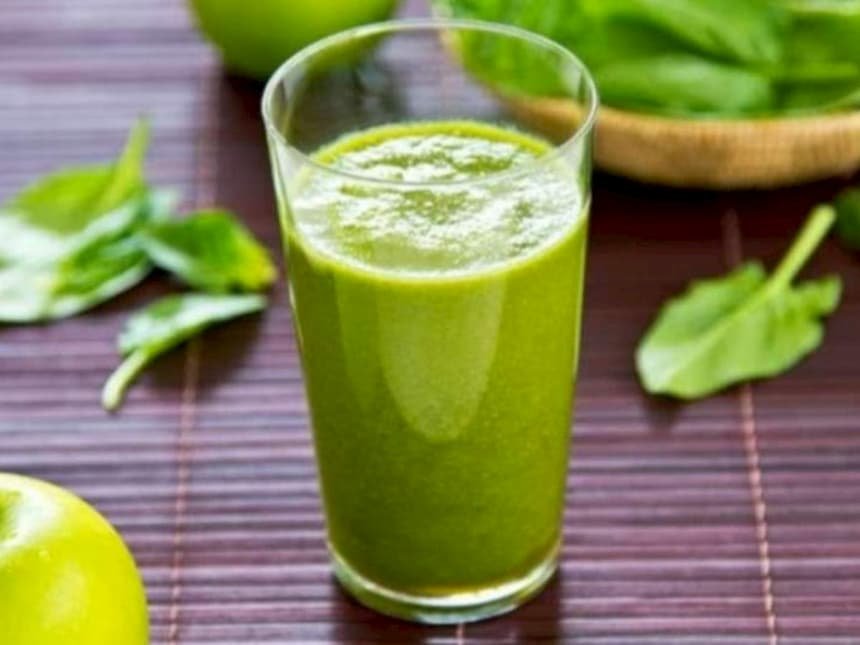 BENEFITS: Boosts immunity, treats fever, cold, improves digestion, helps manage diabetes, fights respiratory problems, improves vision and delays aging.
HOW TO DRINK: Take 15-20 ml of giloy juice of a reputed brand like Patanjali or Khadi and add it into half glass of warm water. Mix it and you are all set to have it as the first thing in the morning. The process is really simple but effective.
These were 12 morning drinks that can keep you active throughout your day. Based on the requirements of your body and your objective, you can choose any of these and drink it every morning. You'll definitely see great results within a month.
You can also change your drink after a period of time , but ensure that you don't consume two drinks together or without any gap.
Which is your favourite morning drink? Do let us know in the comment section.