Everyone dreams of living a luxurious life. But, not many are able to accomplish that dream. No one can become a billionaire over-night, it requires consistent hard-work and a positive mindset. And, those who decide to overcome all the obstacles and not give-up in between, outshine others.
To be able to become rich, you must dream extra-ordinary. And once you start believing in your dreams, you start pursuing richness!
Empty pockets never held anyone back. Only empty heads and empty hearts can do that.Norman Vincent Peale
Let us have a look at 10 Richest people in India (as per Forbes data 2019) and their success stories:
Mukesh Ambani
Net worth- $51.4 billion
Source of wealth- Petrochemicals, oil and gas and telecom
How did he start?
Mukesh Ambani is a 63- year old business tycoon with the highest wealth in India. He was born in Yemen in a downtrodden family and lived in a two-room house until 1970s.
Later, his father Dhirubhai, who started the Reliance industry in Mumbai, brought a 14-floor building. During his school days , he wasn't an extra-ordinary child, but he dreamt big and accepted challenges.
After which, he graduated in Chemical Engineering from the Institute of Chemical Technology, Mumbai. After graduation, he started an MBA program from Stanford University in the US.
His father got permission for PFY (Polyester filament yarn) during the Indira Gandhi-led government and so his father called Ambani to India to help him manage the yarn manufacturing unit. It was the time when he developed leadership qualities as he learned to listen to the employees and engage with them in decision-making.
In 2002, his father died, and a war for ownership of Reliance, triggered between him and his younger brother, Anil. Their mother intervened and gave him the oil, textile and refining assets section; while his brother Anil got telecommunication, entertainment and asset management.
Today, Reliance has built the world's largest oil refinery and moved into grocery segments too. Reliance, under Ambani's guidance, has contributed much to India's rural development too. And now, Ambani lives with his family of six, in the world's most expensive house; a 24-story mansion with over 600 full-time domestic helpers. But, one thing that he hasn't forgotten is, his family and friends. He is a humble, kind-hearted man who believes in following his culture, traditions & spirituality and serving his countrymen.
Gautam Adani
Net worth- $15.7 billion
Source of wealth- Commodities, infrastructure
How did he start?
Gautam Adani's dream began forty years ago, when he went for an educational trip to the bustling port of Kandla, Gujarat. It was when he decided to make something similar on his own. At the age of 18, Gautam dropped out of college and landed at Mumbai to fulfil his dreams.
He didn't had money in his pockets, but a desire to achieve. So, he started earning by working as a diamond sorter with a company namely Mahindra Brothers. And, after two years he managed to open his own shop in Mumbai's famous Zaveri market. But maybe, he had something else in his fate. His elder brother called him back home in Ahmedabad as he wanted him to manage his plastic factory. And this was the stepping stone for Gautam in fulfilling his dreams. He opened a firm that imported polyvinyl chloride (PVC), a key material used in the manufacturing of plastic. His business flourished when the then Finance Minister, Dr. Manmohan Singh came up with LPG policies.
His real glory came in 1995 when the Adani Group successfully secured the contract for privately running the Mundra Port in Gujarat.! He finally achieved his childhood dream and in fact, turned it into India's biggest private port.
Hinduja Brothers
Net worth- $15.6 billion
Source of wealth- Diversified
How did they start?
The Hinduja group is operated by four brothers- Srichand, Prakash, Ashok and Gopichand Hinduja. It was established in 1914 by Parmanand Deepchand Hinduja, father of the four sons.
Today, the business isn't just limited to India, but has spread across Europe, USA, Middle East and Asia too. Ashok is the youngest brother and the one who controls business in India and other parts of Asia. While, Srichand and Gopichand took over the export section and Prakash operates the business from Geneva in Switzerland. Undoubtedly, the group together has overcome all obstacles and managed to outshine with its excellent skills.
Pallonji Mistry
Net worth– $15 Billion
Source of wealth- Construction
How did he start?
Pallonji Shapoorji Mistry is an Indian-born Irish businessman with an estimated wealth of $15 billion. Despite being a powerful businessman, he is rarely seen or heard in media. He controls a construction empire across India, Africa and West Asia.
He, along with his son has 18.5 per cent stake in Tata Sons, which makes them the highest individual shareholder in the conglomerate. His son Cyrus Mistry was also the chairman of Tata sons or the tata group. He always begins any project with the belief 'We should ensure that this is the best, because both our names are associated with it.'
Uday Kotak
Net worth- $14.8 billion
Source of wealth- Banking
How did he start?
Uday Kotak is the CEO and of Kotak Mahindra Bank , which is Asia's richest bank. He started a bill discounting start-up with the amount borrowed by his family. And eventually, it turned into the 2nd largest bank by market capitalization with over 1250 branches.
He was excellent in mathematics which enabled him to become what he is today. He will always inspire young entrepreneurs and business enthusiasts with the five C's he believe in:
Character- He believes that a person must not forget his ethics and good character in his way to become successful.
Conviction- Uday emphasizes on the need to be totally emphasized (or conviction) in business worth.
Creativity- He believes that creativity and innovation should be implemented in our lives and not just remain a part of academics.
Commitment- Uday believes that commitment is the most important key to making progress at work. One must remain committed to one's dreams.
Capability- The banker believes in channelizing capabilities to increase productivity.
Shiv Nadar
Net worth– $14.4 billion
Source of wealth- Software services
How did he start?
Shiv Nagar, the chairman and founder of HCL technologies ltd. was born in a small village of Tamil Nadu. Soon after completing his B.E in Coimbatore, he co-founded 'Microcomp'- a tele-digital calculators selling company with his seven friends.
And, in 1976 he founded HCL with an investment of 1 lakh and 87 thousand. After four years, he ventured into the international market to sell IT Hardware and by opening 'Far East Computers' in Singapore, he earned a revenue of over Rs.10 lacs in the first year alone.
Today, he's one of the most respected industrialists of India. He's also a great philanthropist who has donated over $1 Billion to various causes and sponsored two Vidyagyan schools for rural students in Uttar Pradesh. His name was also included among Forbes' 48 Heroes of Philanthrophy- 2011 for the Asia Pacific region. He has also been awarded with Padma Shri in the year 2008 for his excellent contribution in IT.
Radhakishan Damani
Net worth- $14.3 billion
Source of wealth- Investments, retail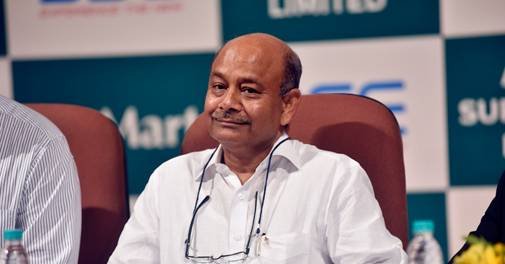 How did he start?
RK Damani is a Stock market Investor, Stockbroker, Trader and the Founder & Promoter of DMart. He believes in letting his work speak, and maintains a low profile in media. But indeed, his work speaks volumes. He buys extremely cheap stocks, which although hold potential but yet, nobody wants to buy, and hold on to them for a very long term.
He had begun his career as a trader in ball bearings, and never thought of entering the stock market. But, his fate had something else for him. When his father died, he had to shut down his business and work with his brother in the stock broking business, inherited from their father.
From a person with absolutely no knowledge in the industry, to being amongst the most valued investors of all times, he made his victories. But even after towering such great heights, he decided to quit markets and built his own empire. And, he founded DMART.
Godrej Family
Net worth- $12 billion
Source of wealth- Godrej group, consumer goods
How did they start?
Godrej is a 123-year old company that deals in a variety of consumer and electric goods. It was founded by Pirojsha and Ardeshir Godrej, but now run by their grandsons Adi, Jamshyd and Pirojsha. In 1897, Ardeshir came up with the idea of making locks after seeing the increasing theft rates. And his venture was joined by his brother Pirojsha.
Adi Godrej, the current head of Godrej family and chairman of Godrej group believes in keeping the interests of family and business separate. And, for him, the interests of his business is ahead of his family's.
Lakshmi Mittal
Net worth- $10.5 billion
Source of wealth- Steel
How did he start?
Lakshmi Mittal was born in a village of Rajasthan and lived with his joint family, on bare floors and rope beds in a house built by his grandfather. Later, they moved to Kolkata, where his father started to work in a Steel company, which was of good fortune to them.
He was excellent with numbers and graduated from Xavier's College, Kolkata with a degree of Bachelor of Commerce in Business and Accounting in 1969. Years after which, his family established its own Steel business and Lakshmi started establishing its international division.
Years later, he got married to a renowned money lender's daughter. And, due to some divide in the family, he branched out on his own. Today he is the chairman and CEO of Arcelor Mittal, the world's largest steel-making company.
Kumar Birla
Net worth- $9.6 billion
Source of wealth- commodities
How did he start?
Kumar Mangalam Birla is an industrialist and the chairman of Aditya Birla Group. He inherited the business from his father Aditya Vikram Birla, and expanded it.
He has expanded the growth by adopting business strategies and professionalizing the entire group. Birla is a graduate from the London Business School and has a high risk-taking ability. He has grown the company by mergers and acquisitions across businesses.
And today, the Aditya Birla group is a $40 billion conglomerate with over 120,000 employees and is the only Birla group in manufacturing which survived the liberalisation of 1991.He has been honoured with a number of awards. But, this success didn't come over a night; he had faced many set-backs but continued to overcome them.
From these inspiring stories, we can conclude that success can be achieved in any industry, but only if we decide to become successful. And, it's not money that keeps us moving in the direction of success, but rather our own dreams.
So, dream big, don't hold back and make it happen. If they can, you can!
Comment down where you would want to see yourself in future.