Thanks to Netflix, Amazon Prime, YouTube and other affordable streaming sites and of course Jio, for giving us some really astonishing options to watch during these unprecedented times. Watching web series can be quite relieving and interesting, in overcoming stress and boredom. While we are so much into Hollywood series, India has stepped as a digital creator having produced a plethora of web series for audience of every genre.
Whether you love watching Dramas or Thriller, Romance, or horror, and whether you are a teenager or a senior citizen, Indian web series have you taken care of! What are some best Indian web series?
Here are top 10 Hindi web series:
1. The Family Man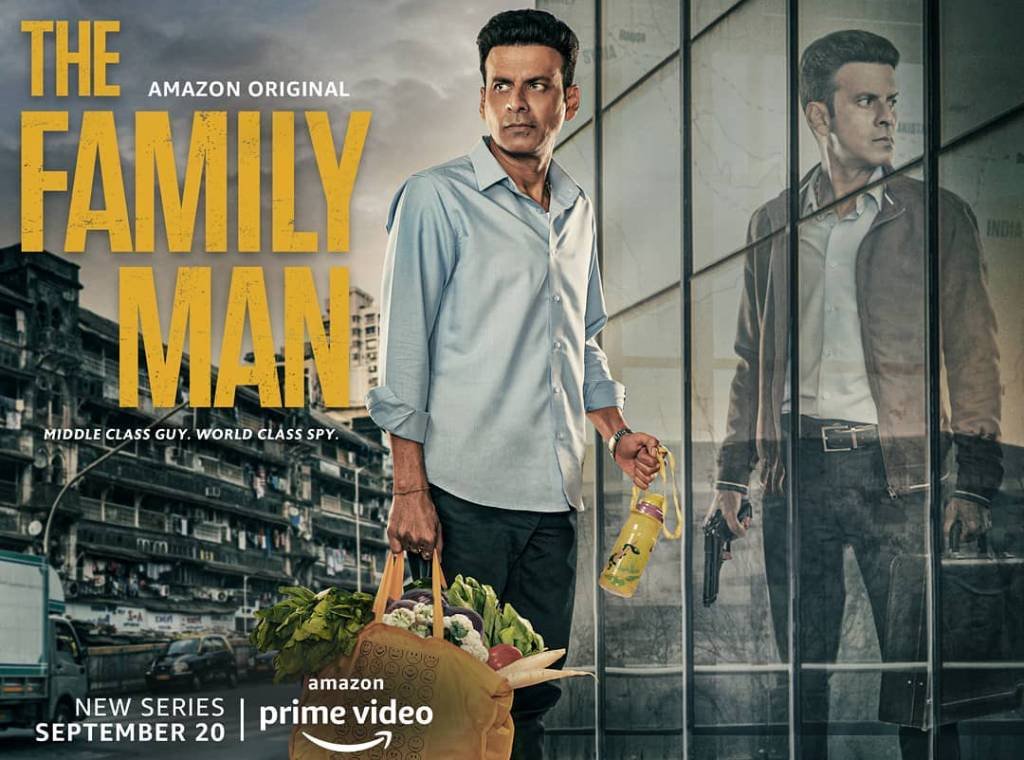 The Family Man is an action-drama series created by Raj Nidimoru and Krishna D.K. starring Manoj Bajpayee and Priyamani. It is a powerful, humorous, and action-packed series that has a great story everyone all over the world can enjoy.
The story revolves around a middle-class man who's a secret agent for the National Investigation Agency. While he's saving his country from terrorists, he also needs to protect his family from the impact of his secretive yet low paying job.
The series also addresses the sensitive issue of humiliation and discrimination, faced by Muslims for no reason other than the fact they are Muslims. It is different from other spy-stories because the character has the same maladies we face each day, and so it is really easy to connect and feel the scenes. It is a well-scripted plot and an amazing array of characters (lead and supporting).
And of course, Manoj Bajpayee's stellar performance. The show has not just got love from Indians fans but worldwide. Go watch it on Amazon prime today!
2. Sacred Games
Sacred games is undoubtedly one the best Indian web series to watch. It was the first Indian series to be produced by Netflix and has gain global appreciation.
The first season got praised for all of its aspects; however, the second season attracted some criticism. It ended on a shocking cliffhanger.
So, you must not miss watching the upcoming season 3 in September 2020. It stars Saif Ali Khan, Nawazuddin Siddiqui and Radhika Apte showing the massive potential in the platform for astonishing Indian content. With talented directors like Anurag Kashyap and Vikramaditya Motwane, people naturally expect much, and they have proved their talent yet again. And, no one can forget "Balidan Dena Hoga".
Pankaj Tripathi has the ability to mold himself into any role he is given. His character of Guruji mocks the society of being so dumb as to follow fellow humans blindly! Sacred games may seem to be a bit dirty, but you are gonna love all the dirt since it goes well with the flow and does not look out of the story.
3. Kota Factory
Kota Factory is India's first black and white web -series presenting the struggle of a 16-year old student, Vaibhav, who joins a coaching for preparation of IIT entrance exams.
It also features Jitendra Kumar in a pivotal role, as an inspiring teacher, mentor and overseer as Jeetu Bhaiya.
Vaibhav along with his friends Meena (Ranjan Raj) and Uday (Alam Khan) are shown to go through the gruesome schedule which includes living in a new town, late nights, a parentless home and coaching class hierarchies which we all can relate to. The cameramen have taken some really amazing drone-shots that enables one to get a bird-view of the city and conditions these students live in.
The series is directed by Prince Mahmud Ivan and is available to watch on TVF Play and YouTube.
4. Mirzapur
Mirzapur is a crime-thriller-action series directed by Karan Anshuman and Gurmmeet Singh. It is a violent revenge drama starring Pankaj Tripathi, Ali Fazal, Vikrant Massey with an exceptionally nailing performance.
It turned out successful in creating a strong impact with its first season and the second season is highly awaited by fans. Pankaj's performance was never a question, but this time, surprisingly it was Divyendu Sharma, who played an extremely negative character as Phulchand Tripathi aka Munna Bhaiya, for the first time and yet nailed it. Go watch it on Amazon Prime today.
5. Bard of Blood
Bard of Bustard is a seven-episode series produced by the Shah Rukh Khan's production house, 'Red Chillies Entertainment', starring: Emraan Hashmi, Shobhita Dhulipala, Kirti Kulhar and Vineet kumar.
It is a story of an expelled spy, Kabir Anand (played by Emran) who gets back in the field to rescue agents captured by the Taliban. Moreover, it deals with cross border terrorism and involves dishonest Indian agents contending with Pakistani intelligence services. Although the series has drawn some criticisms, it is worth your eye!
6. Ghoul
Ghoul series is directed by Patrick Graham. There is hardly any horror movie or series that leaves us with moral questions, but Netflix's Ghoul does.
If you expect it to be a thriller-horror movie, you may be a bit disappointed. The series deals with various subjects of bigotry, racism, false patriotism and cues in elements of horror to spice up jet.
The plot is very well written but may annoy some extremist right-wing supporters and blind patriots. The series revolves around the brutality of the military personnel with minorities and those speaking against the government.
While, Radhika Apte (playing Nida Rahim) is appreciated for exposing her father's anti-terror activities. People who believe in "Terrorist ki beti toh terrorist hi hogi" will definitely criticise it.
Ghoul is a must-watch for a wiser audience who wish to understand the realities we are facing today.
7. TVF Pitchers
Pitchers is a five-episode series directed by Amit Golani. It is an Indian drama comedy web series created by The Viral Fever, focusing on four friends Naveen, Mandal, Jitu and Yogi. The four young entrepreneurs had to quit their daily jobs to fulfil their dreams.
The series will teach you a lot about life. From making touch decisions to following your passions, and the importance of relationships-friends and family. It will inspire you to follow your passion and not go for any forced job because you can never get the same level of satisfaction from it, no matter how much you earn.
You must not miss this series, if you are interested in parallel cinema.
8. FLAMES
Flames is a teenage romance love story from The Timeliners that takes you back to your teenage days when a smile from your crush meant the world to you.
It is a story set in a tution center at West Delhi, wherein students of class 11 th and 12 th come to practice Maths and Chemistry. It revolves around teenage love and heartbreaks which we all can relate to.
It stars actor Ritvik Sahore, who is slowly taking over the Indian digital scene. It also casts Sunakshi Grover, Tanya Maniktala, and Shivam Kakkar. It will make you feel nostalgic with its evergreen 90s songs in the background. Go watch Flames on TVF now!
9. Panchayat
Panchayat is a comedy-drama web series available to watch on Amazon Prime. It captures the journey of an engineering graduate Abhishek, who joins as secretary of a Panchayat office in a remote village of Uttar Pradesh, due to lack of a better job.
The eight-episode drama thrives to showcase the village settings and the contrast between urban and rural life. The circumstances every village kid has to go through. It is a perfect series to watch with family, and which really teaches you moral lessons with comedy.
The acting done by Jitendra Kumar cannot be expressed in words and so, is worth watching.
10. Permanent Roommates
Permanent roommates is the first successful Indian web show created by The Viral Fever and Biswapati Sarkar is available to watch on TVF and YouTube.
The series introduces us to a couple who accidentally meets and gets into a long-distance relationship for three years, but then they successfully turned into a live-in relationship to plan marriage in the future. Story of Mikesh and Tanya indulges the audience to fall in love with their unexpectedly relatable romance.
From funny to romantic, these were top 10 most popular Hindi web series which we believe you would love giving your time. If you haven not watched any of the above mentioned, you must watch now!
And do let us know in the comment section, which one you liked the most and why.