The coronavirus pandemic (also known as covid-19) was originated in Wuhan, China and soon affected the entire world. With over 90 lakh people affected globally, the animal-originated virus is still affecting lakhs of people everyday and we are unsure of when it will come to a halt.
COVID-19 Positive Cases in India:
Out of the total of 90 lakh cases, India has over 4.25 lakh affected people and ranks 4th globally on the basis of the highest number of cases. Among those, over 13 thousand people have lost their lives and approx. 2.5 lakh has been recovered. With this, India is reporting a rapid increase in the number of cases every day.
COVID-19 Global Ranking of India
Analysis
India's ranks 4th globally and may surpass Russia in the coming days to rank 3rd country with the highest number of cases.
The mortality rate is 3.22%, which is relatively lesser than the most affected countries.
The recovery rate in India is also far better and the number of serious cases or patients which require ventilator support is lesser in India.
As per the total number of tests conducted, India is not doing better than many countries. But, keeping in mind the medical infrastructure of the country, it has used its potential by increasing the total tests per day up to 5038/ 1 million population and based on this proportion, the positive cases in India are lesser than the countries with highest number of cases.
By this, we can say that India is definitely climbing up the list of World's most affected countries. However, the recovery rate is much better than mortality rate, and thus total number of active cases is also going down, and situation seems better than highest affected countries in these terms.
State-wise Ranking in India:
Analysis:
Maharashtra, Delhi, Tamil Nadu, Gujarat and Uttar Pradesh are the top 5 states with the highest number of cases.
Presently, Maharashtra and Delhi are witnessing a spike of over 3000 cases per day, which in itself accounts for a huge percentage of country's cases.
Although Maharashtra ranks number 1, on comparing the total population and rising cases, it can be said that Delhi may surpass Maharashtra to become the Covid-capital of the country.
The government has predicted that Delhi would have approx. 5.5 Lakh cases by 31st July, which is really scary for a region with 2cr population.
Kerala, where the country's 1st COVID case was found, is doing much better now.
Gujarat and Uttar Pradesh are doing well in terms of recovery rate.
However, the mortality rate in Gujarat is 6.1%, which is the highest in the country, thus a negative indicator.
To sum up, Maharashtra is leading as the Covid-capital of the country, but soon the title may be shifted to Delhi. The number of cases increasing in the top 4 countries are a sign not a good indicator and Gujarat's high mortality rate is something to really worry about.
Symptoms: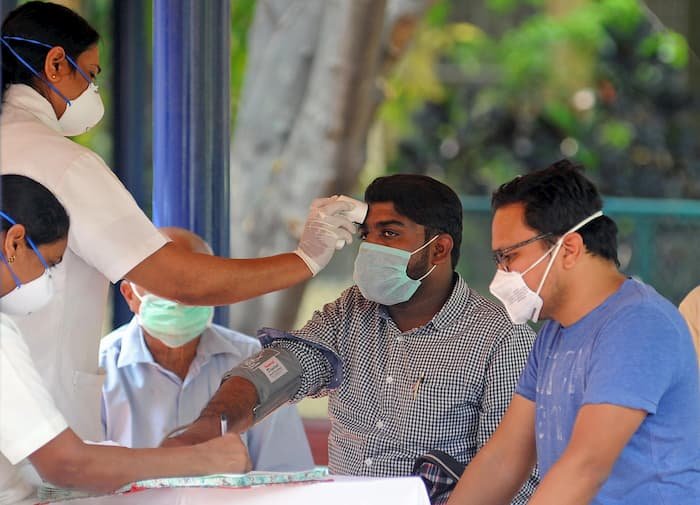 The best way to treat covid-19 is early detection of symptoms. And the worst part about coronavirus is that it may not necessarily cause major symptoms to the affected people. Thus, detection becomes problematic. And undetected patient may unknowingly transmit it to many more around him, which is even more troubling.
So, let us look for some early symptoms which are found in covid-19 positive people. These are:
Fever (common)
Cough (common)
Tiredness (common)
Loss of taste and smell (common)
Shortness of breath or difficulty breathing (in severe case)
Muscle aches
Chills
Sore throat (common)
Headache (common)
Chest pain
Note: It may take somewhere between 2-14 days for the symptoms to be visible after being exposed to the virus. And, this duration is called as incubation period.
Prevention:
"Prevention is better than cure". No one can under-estimate this statement. With rapidly increasing cases in and around the country, it becomes important to be cautious in advance than to regret later.
Remember, Covid-19 is not a joke. It is depressing to stay in but much better than losing own life or loved ones'.
Do not step put until and unless urgent.
Always wear mask when going out. Do not Forget to dispose it well or clean it if reusable.
Form a habit of carrying hand sanitizer with at least 60% alcohol and use it every time you us.
Follow social distancing measures as much as possible. By this, we mean you must maintain a gap of at least 6 feet with anyone.
Follow proper hygiene and do not share your belongings with family or friends.
Use private vehicle instead of public, as far as you can.
Take off your footwear before your door, as it may carry virus from outside.
Avoid visiting shops, order grocery and essentials online.
Avoid food from restaurants, cook healthy meal at home.
Wash or sanitize all belongings brought from outside.
Download and use 'Aarogya Setu' application regularly.
Apart from these distancing and hygiene measures, you must bring certain changes into your life, to reduce your chances of getting affected by virus. Your major goal should be to boost immunity, which is responsible to fight with viruses that enter your body.
Below are some guidelines suggested by Ayushman Ministry for immunity boosting:
Drink 'Kadha' or herbal tea before sleeping. The ingredients should include basil leaves, cinnamon, black pepper, ginger powder and raisin.
Practice yoga and 'Prayanam' every morning.
Oil pulling therapy with coconut or sesame oil.
Nasal application of coconut or sesame oil.
Drink golden or turmeric milk.
Take ½-1 tsp 'Chyawanprash' before milk.
Replace cold water with warm water.
Use turmeric, garlic, cumin and coriander in cooking.
In case of cold/ sore throat, practice steam inhalation of mint leaves or caraway seeds twice a day.
For throat irritation, take clove powder with honey, thrice a day.
What to do if I get Symptoms?
Now that we have discussed about increasing cases and how you can prevent it, let us talk of what should one do on finding oneself with symptoms associated with covid-19.
In case of any symptoms, your very first step should be to isolate yourself. That is, to stay in a separate room and use your own belongings, not meeting anyone and sharing any article with them.
Now that you are alone, you should keep a note on your symptoms.
If you feel like it is mild and may disappear on their own, you can keep yourself in self-quarantine and follow all the above-mentioned precautions for 14 days or until when you get well. In this case, you must follow all the advisories of Ayushman Ministry for immunity boosting.
But, if you do not feel better in 2-3 days or your symptoms worse, you must not hesitate to visit a good doctor. (Don't forget to wear mask).
Do not go to any covid-19 hospital or lab directly, as they will not test you without doctor's recommendation.
Now that you will visit a doctor, he/she check your symptoms and based on that, your treatment will be suggested.
In case of covid-19 symptoms, you can be prescribed for test.
Soon, medical professionals will be there at your doorstep and take your samples.
In case it turns out positive, again there will be two options. In mild case, you may be asked to keep yourself quarantined and stay in contact with medical professionals regularly. And in severe condition, you will be asked to get yourself admitted in a hospital so you can be given treatment based on your symptoms.
It is suggested to follow Dr.'s advisory and stay at home, if asked to. The number of beds in hospitals are almost filled and thus it is anyway better to treat yourself at home, if possible.
*Above are the revised guidelines, now it is not necessary to get admitted in hospital, one can choose to stay at home in case of mild symptoms.
How Much Does COVID-19 Testing and Treatment Costs?
Testing:
Earlier the amount capped by the central government was ₹4500 per test. Now this limit has been removed, and states have the power to choose on their own. However, most of the states have capped the private testing prices at around ₹2200-₹2600 per test.
COVID-19 Treatment in Hospitals:
The initial charges fixed by private hospitals were way too high. Now it has been capped differently for different states. For Delhi, it has been slashed to 1/3rd according to Dr. Harsh Vardhan. Rates for isolation beds is ICUs without and with ventilator in all hospitals have been capped at ₹8,000- ₹10,000, ₹13,000-₹15,000 and ₹15,000-₹18,000 respectively. So, an approx. cost for 5-7 day hospitalization may cost around 60,000-80,000 now.
COVID-19 Helpline Numbers:
Below are the helpline numbers of respective states on which you can contact to seek help.
You can also text on 901-315-1515 through WhatsApp for any queries or help.
End Note:
More than the physical complications, COVID-19 gives one mental stress. Thus, it is important to keep yourself busy with something irrespective of whether you are corona positive or negative. However, you must not compromise with social distancing and hygiene measures and take every possible precaution. Also remember: "THIS TOO SHALL PASS"