Online has become the new trend and need of the hour in the current pandemic situation. Purchasing things and groceries online and ordering food online is a major business nowadays, and it also became a part of everyone's day to day life. The sudden occurrence of the Pandemic had a major impact on everyone's life and even completely changed the lifestyle of many people.
At the beginning of the Pandemic, everyone thought that they would miss their enjoyment and entertainment completely, but that's not true. There are many ways to enjoy at home also just like OTT platforms. Along with the Food delivery and Online purchase apps, OTT platforms play a key role in our life mainly during the Pandemic, and continues forever.
What are OTT Platforms?
Firstly, we need to know what do you mean by the OTT platforms? OTT stands for "Over The Top" and refers to all the streaming services that are delivering content over the internet, but that doesn't mean they deliver the content for free of cost. Some OTT platforms charge amount, and some do not charge anything. The charges imposed by the OTT platforms are generally affordable by all kinds of people, including the lower middle-class level also.
The best of all the OTT platforms is NETFLIX. It covers all kinds of movies on it. Along with movies, many Netflix original series are also available to watch. Netflix Provides you with all kinds of entertainment like horror movies, comedy movies, family movies and many original web series also. In Netflix, you can watch both National and International programs also. Many OTT websites provide these, but among all those, many top web series is on Netflix. If you are a be Indian and by Indian person then there are many Indian web series on Netflix. That means you can watch the best in Netflix India.
10 most popular web series among Netflix are listed below:
Stranger things
The Umbrella Academy
Dark
The Witcher
Lucifer
Narcos
Warrior Nun
La Casa De Papel (Money Heist)
The Last Dance
She-Ra
There are many Indian web series available on Netflix, but it is not possible to go in detail about each and every thing. So in order to know what to watch on Netflix India.
10 best web series to watch on Netflix India are listed below: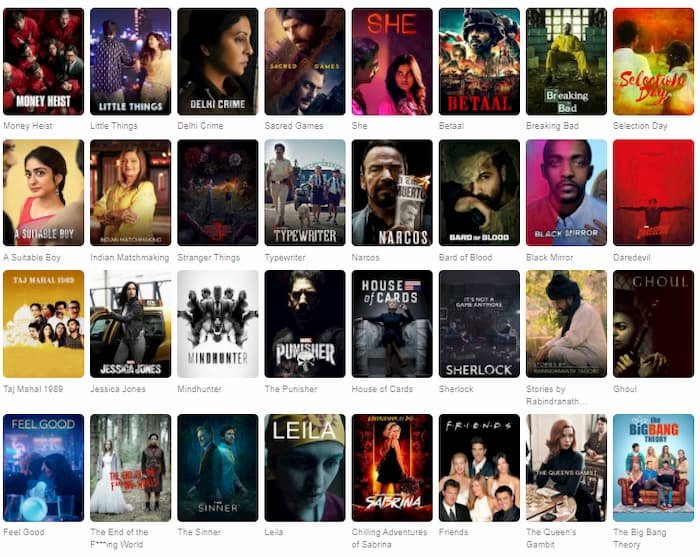 Money Heist
The Umbrella Academy
Narcos
13 Reasons Why 
Breaking Bad
Stranger Things
The Queen's Gambit
Mismatched
Delhi Crime
Sex Education
Netflix offers programs in different languages, including the local languages. For example, if we consider Hindi, our national language, there are many movies and web series offered by Netflix in Hindi. Now let's have a deep look at the best Hindi web series in Netflix.
10 best Hindi web series on Netflix India:
Mismatched
Delhi Crime
Jamtara – Sabka Number Ayega
Sacred Games
Selection Day
A Suitable Boy
Little Things
Leila
Ghoul
Typewriter
Apart from these the best to watch on Netflix India are the Made in India series. These fall under the must-watch category among the Netflix category.
Many people love to watch movies and the web series in OTT platforms but don't know what to watch and fear about the amount that it might be high, and they may not be able to afford it. So, I hope for all those people this article provides very good information. This article provides all the basic information needed to know and have a basic and even a good idea on the OTT platforms and also mainly on the Netflix website which is affordable and the best of all the OTT platforms present on the internet.
Over To You
Netflix is full of content across different genres, you can pick and watch your favourite series. Many shows on Netflix are loved by many and have huge popularity and one of the reasons subscribers of Netflix India increasing day by day.
Hope you liked it and if you have not watched these popular series on Netflix then I recommend subscribing to the Free subscription of 2 days offered by Netflix India.